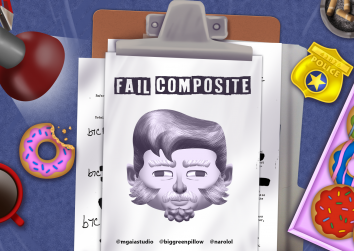 Fail Composite
A downloadable game for Windows
Submitted to Global Game Jam 2018. The theme was 'Transmission'.

---
Fail Composite is a party game where 3 players have to remember a criminal's face, describe him to the composite artist, and then identify him among the suspects.
PLAYER ROLES:
Player 1: the victim
Player 2: the composite artist
Player 3: the identifier
HOW TO PLAY:
STEP 1 (The Incident)
The game will show the image of the criminal to Player 1.
IMPORTANT: only Player 1 is allowed to see the criminal.
STEP 2 (Facial Composite)
Player 1 has to describe the criminal to Player 2, while Player 2 draws him using the game's drawing tool.
STEP 3 (Identification)
Finally, Player 3, using the sketch, has to identify the true criminal among five suspects.
Credits:
Mother Gaia Studio
Bruno Toledo
Leandro Ciamaricone
Victor Cesário
Felipe Bertozzo
Big Green Pillow
Diego Sato
Danilo Balzaque
André Rodrigues
Priscila Alves
Red Noise Music
Download
Download
Fail Composite - Final Build GGJ 2018.zip
55 MB