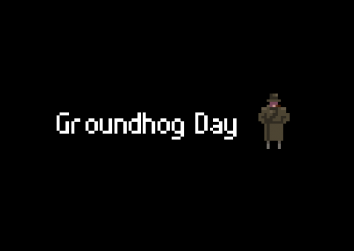 Groundhog Day
A downloadable game for Windows
Submitted to Global Game Jam 2014. The theme was 'We don't see things as they are, we see them as we are'.
---
On a small english town, on a rainy night, a mysterious murder happened.
You play the game as a detective who, in a Sherlockian way, is running around the town the day after the crime, interrogating every suspect and trying to solve the case. Slowly you learn that everybody has something to hide, but also some good in their heart, and that will make your search for the murderer much more difficult.
You'll never be sure if the choices you are making are based on a universal truth or are just a personal interpretation of the fractional part of the facts that you've come to know.
* CONTROLS: Use the ARROW Keys or AWSD to move, the SPACE BAR to interact (talk to people/chose option), and ENTER to Accuse the nearby NPC of the crime.
Download
Download
Groundhog Day Executable.zip
17 MB